№ 412 Chrysoprase, Labradorite, Iolite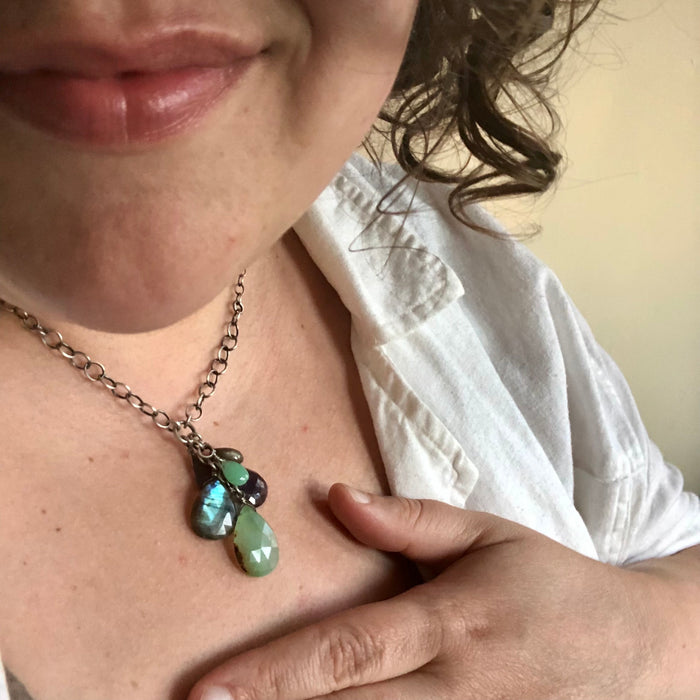 My favorite pieces from this collected are the stone cluster necklaces!  I drew inspiration from a variety of artwork to create stories of color and texture in each of these necklaces.
This piece features the bold, colorful stone chrysoprase paired with labradorite, iolite and moss aquamarine.  The stones are suspended from thick sterling silver chains.
Chrysoprase is a rich, colorful green stone that is often opaque and at times has a slight transparency.  Believed to promote a love of truth and hope, chrysoprase is said to aid in recognizing the gentle beauty within oneself and to stimulate self-expression and creativity.
Labradorite has an understated grey base with a hidden fire inside that shines through at just the right angle.  The iridescence ranges from deep blue, to yellowish green, even into the orange and purple hues.  Labradorite, the bringer of light, is believed to be a highly mystical and protective stone.  It stimulates intuition and psychic gifts and strengthens faith in the self and trust in the universe.
Iolite, named after the Greek word "ios," meaning violet; has a rich purple, blue hue mirroring the night sky.  Iolite is known as the gemstone of clear visions, promoting intuition and inner knowing.  The color of iolite ranges in depth from deep purple, blue tones similar to tanzanite and sapphire into soft subtle gray tones.
Moss Aquamarine's ocean hues range from greens to deep blues.  Moss aquamarine is believed to have an affinity with sensitive people, carrying the power of the ocean, it is considered a stone of courage, communication, and heightened clairvoyance. 
Pendant is 2 ¼"  long and hangs from sturdy chain measuring 18" and is finished with a toggle clasp that secures in the front of the necklace.  All chain and findings are oxidized sterling silver.