№ 415 Turquoise, Chrysoprase and Labradorite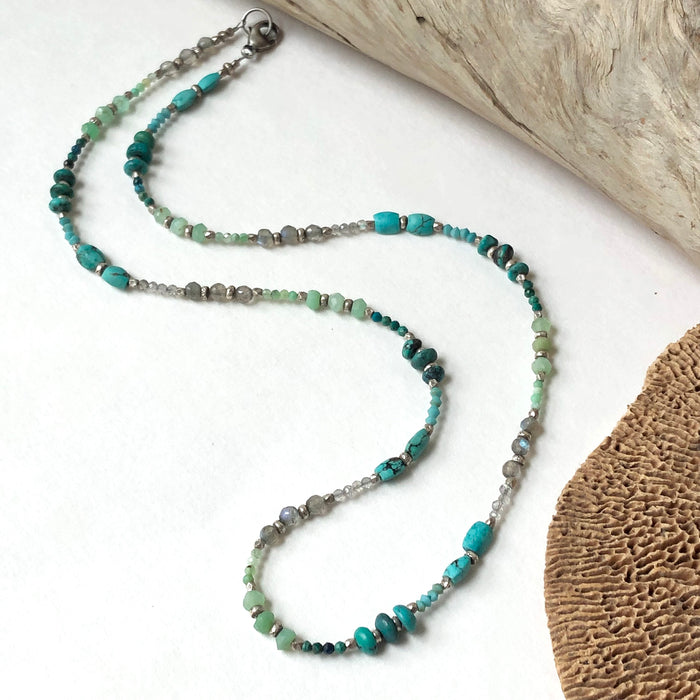 This new necklace design is a delicate and colorful piece!  Featuring a series of repeating stone patterns mixed with silver spacers from the Hilltribe in Thailand.  The stones featured are turquoise, chrysoprase, labradorite, Peruvian opal and chrysocolla.
Turquoise has traditionally been thought of as a stone to unite earth and sky, bringing together male and female energies.  It is considered a strengthening stone while also instilling inner calm and enhancing intuition.
Chrysoprase is a rich, colorful green stone that is often opaque and at times has a slight transparency.  Believed to promote a love of truth and hope, chrysoprase is said to aid in recognizing the gentle beauty within oneself and to stimulate self-expression and creativity.
Labradorite has an understated grey base with a hidden fire inside that shines through at just the right angle.  The iridescence ranges from deep blue, to yellowish green, even into the orange and purple hues.  Labradorite, the bringer of light, is believed to be a highly mystical and protective stone.  It stimulates intuition and psychic gifts and strengthens faith in the self and trust in the universe.
This necklace measures 18 ½" long and is strung on Softflex - a sturdy flexible nylon coated stainless steel cord.  Necklace is finished with a 13mm lobster claw clasp and all findings used are oxidized sterling silver.