№ 410 Chalcedony, Lapis, Labradorite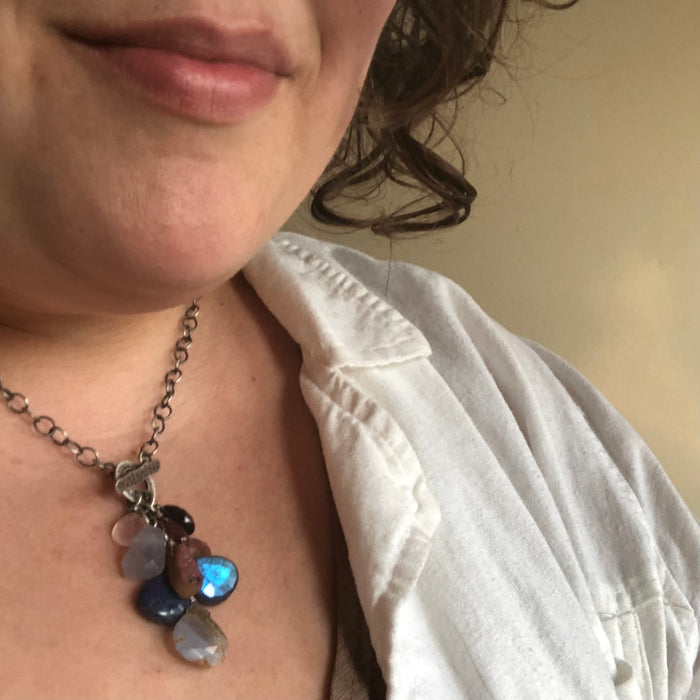 My favorite pieces from this collected are the stone cluster necklaces!  I drew inspiration from a variety of artwork to create stories of color and texture in each of these necklaces.
In this necklace I was thinking of the hues the sky takes throughout a day in the high desert of New Mexico and the way it compliments the rust colored earth.
This piece features the soft blues of chalcedony, lapis, labradorite, and iolite mixed with rusty rutilated quartz, and the bold pinks of pink cobalto calcite druzy, pink tourmaline, and rose quartz.
The stones are suspended from a sterling silver toggle clasp and sturdy cable chain.
Chalcedony has a soft, slightly opaque blue tone.  It is believed that chalcedony is a nurturing stone that promotes community and good will, as well as bring the body and mind into harmony.
Lapis Lazuli is believed to bond relationships of love and friendship, encourage creativity, release stress and bring deep inner peace.
Labradorite has an understated grey base with a hidden fire inside that shines through at just the right angle.  The iridescence ranges from deep blue, to yellowish green, even into the orange and purple hues.  Labradorite, the bringer of light, is believed to be a highly mystical and protective stone.  It stimulates intuition and psychic gifts and strengthens faith in the self and trust in the universe.
Iolite, named after the Greek word "ios," meaning violet; has a rich purple, blue hue mirroring the night sky.  Iolite is known as the gemstone of clear visions, promoting intuition and inner knowing.  The color of iolite ranges in depth from deep purple, blue tones similar to tanzanite and sapphire into soft subtle gray tones.
Rutilated Quartz comes in many different hues depending on the fine threads known as rutiles, ranging from yellow, rust, green, and black.  Rutilated quartz offers a story of how flaws transform into depth and beauty.  Believed to be an energizing and harmonizing stone, rutilated quartz is said to be an illuminator of the soul.
Pendant is 2 ½"  long and hangs from sturdy chain measuring 18" and is finished with a toggle clasp that secures in the front of the necklace.  All chain and findings are oxidized sterling silver.